Nah, Bucs Couldn't Use Michael Bennett
December 3rd, 2013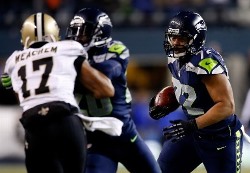 You saw it. Joe saw it. The football world saw it.
Early in the game last night, which turned out to be a belt-whipping that the Seahawks unleashed on the Saints, Cliff Avril, who many in the offseason thought was running on a dry tank, stripped Drew Brees with Michael Bennett grabbing the loose ball out of the air and rolling 22 yards for a touchdown.
Yes, Michael Bennett. Yes, that Michael Bennett.
You know, the guy not good enough for the Bucs because he was damaged goods (Joe still isn't buying that line). Yeah, the same Michael Bennett who led the team with sacks last year. Yeah, the same Michael Bennett who the Bucs confidently bragged could be replaced admirably by Da'Quan Bowers.
Yeah, Da'Quan Bowers. Yes, that Da'Quan Bowers, the nice guy and second round pick who can't start for one of the worst pass-rushing teams in the NFL. Uh, huh. The one and the same Da'Quan Bowers.
Why doesn't Joe buy that Bennett was let go solely because he was damaged goods (which is not totally false)? Because the Bucs could have signed him cheap; signed him still with loads of cap room; cut him if he couldn't hack it (remember, NFL contracts are not always 100 percent guaranteed); or in a worst-case scenario from the Bucs' frame of mind, made an injury settlement.
Now, Joe knows some point the finger at Bucs management for not washing their hands of leaky Rip Van Freeman before the season and starting Mike Glennon as the biggest offsason whiff. Short of Adam Schein, that is some serious revisionist history.
No, Raheem Morris, for all his faults, had a great saying. "I will tolerate you until I can replace you." If Joe remembers correctly, this was a dart at Stylez White.
Well, the Bucs didn't replace Bennett's numbers or his stellar run defense. There's no telling how much better the Bucs defense would be with Bennett. Now no one will ever confuse him with Deacon Jones. But if one position is a step or two better, it makes players around him better and that makes the team just that much better.
It's not like the Bucs have sackmeisters growing on trees behind One Buc Palace.
Did the Bucs let Bennett walk (limp?) away without replacing him because he bristled at having to run juvenile stunts all game long?
Teams with losing records — this just in: the Bucs haven't had a winning record since 2010 — can't be picky about letting players walk for paltry sums who were statistical leaders on the squad.
Now Bennett is helping the Seahawks the best record in the NFC.
Nah, the Bucs just couldn't have loused up their roster with a guy like Bennett.