Saints 42, Bucs 17
December 29th, 2013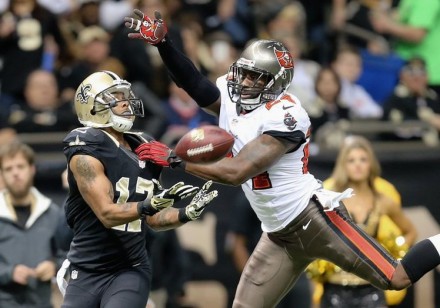 Greg Schiano said today's Bucs-Saints game was a "playoff" game for his team. So Joe has to ask, "Coach, where the heck was your playoff defense?"
The Buccaneers offered no resistance. The Saints racked up 35 points through three quarters. And it was virtually all on the defense. The Bucs' offense actually moved the ball a bit and only had one turnover that led to a fourth-quarter score.
Brees finished the first three quarters — that's three quarters — 22-for-28 for 376 yards and four touchdowns.
This is very disturbing.
Schiano is a defensive head coach with Darrelle Revis, Dashon Golson, Gerald McCoy and Lavonte David on his side. Yes, the Saints offense hums at home, but not that well.
The Bucs' pass rush was about as non-existent as the Saints. Finally, the Bucs' offensive line came to play. Bobby Rainey and Brian Leonard found holes. Mike Glennon had plenty of time and only absorbed one sack.
So now the Greg Schiano watch is on in full force. Will he survive for a third season?
The Bucs were pounded three times to close the year against the 49ers, Rams and Saints. The Bucs finished 4-12, and 4-4 in the second half of the season.
Joe can't predict what Team Glazer might be thinking. Jon Gruden and Raheem Morris got canned off December losing streaks.
This season it took 11 wins to earn a Wild Card berth in the NFC and 12 to win the NFC South. The Bucs are far, far away.