Revis Going Through Concussion Tests
December 5th, 2013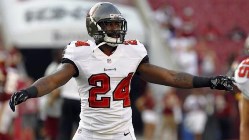 Last week Bucs stud cornerback Darrelle Revis messed up his shoulder against the Panthers and was knocked out of the game, the second time he had to leave the field for an injury in as many games.
Today, Revis revealed it wasn't just his shoulder that was hurt in the loss to the Stinking Panthers. So too was his head, sort of.
Revis confessed he "banged" his head. In fact, it was more than a bang. Revis thought he was out cold, though briefly.
"I will be alright," Revis said. "I also banged my head on the play so I have to go through the whole concussion testing and I am fine now. I passed the test. I guess they're saying that I got knocked out for a second and then I came back. I am fine, though."
Good thing for the Bucs. The Bucs need a win. Bucs commander Greg Schiano needs a win. One way for the Bucs to beat the bungling Bills is to have a savvy veteran like Revis expose Bills rookie quarterback EJ Manuel.