"Mind-blowing" Respect For Tim Wright
December 5th, 2013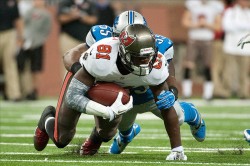 Joe went looking for emerging rookie tight end Tim Wright yesterday to talk about his development and what it's like to have top NFL defenses double-teaming him repeatedly, as was the case against the Panthers. 
Wright, who's beefed up his skinny frame, had plenty to share.
JoeBucsFan.com: Coach mentioned on his radio show the other night that he thought it was significant that you were getting double teamed Sunday by the Panthers defense because it shows how far you've come. Was that the first time you've been double-teamed?
Tim Wright: No. It happened, I'd say, in Seattle, is when I really started seeing some gameplan stuff, with guys kind of playing more towards me and schematics to shut down what we do with me. I guess it's a testament to of all the hard work that's been put in and Mike [Glennon] throwing good balls to me. Everything is a collaboration of a lot of things.
Joe: How many snaps would you say you were double-teamed Sunday?
Wright: It was quite a bit because I was getting hit by the end and then the linebacker was playing inside, the safety was playing outside of it. It happened probably about 75 percent of the time. It was a high percentage.
Joe: Personally, is it kind of hard for you to believe, mainly because you didn't play tight end at Rutgers, that all of a sudden 'I'm in the NFL and guys are scheming against me.' That was the best defense in the NFL double-teaming you.
Wright: It is kind of mind-blowing. But, you know, like I've said every step of the way you go, you know, you get new obstacles and new things start to come along and as you progress things like that start to happen. So I mean you get those things, but you have to play according to how they're playing you and try to outexecute them.
Joe: What do you like most about your transition to tight end?
Wright: I just like the challenge. You know, something new is not boring. It's a whole new thing schematically, so I have to learn a lot about the defensive structures, how the good tight ends in our league do well against those different type of looks. Like I said, it's a new venture for me and I just love doing what I do.
Joe: You look like you've put on significant weight and muscle since training camp? How much have you added?
Wright: I'd say 15 pounds. You know, with the heat conditions down here in Florida, it's a little hard to keep putting on those pounds, but I've put on a solid 15 pounds.
Joe: Do you have a green light to eat as much as you want, unlike most of the other guys?
Wright: Oh, yeah. We lift on a good regimen about three times a week. And I eat lots of good foods and that develops into solid muscle and solid weight.
Joe: So you're on free feed around here and your teammates are jealous.
Wright: Definitely. (laughs) Definitely.
Joe: Is there something you need to work on most? I know you're trying to improve in all areas, but where do you need the most work?
Wright: I would definitely say blocking. Tight ends in the NFL predominantly are at a physical disadvantage with the defensive ends out there. So I feel like being able to get in position and effectively drive block a guy and stay on him through the whistle is something I really need to work on and get better at.