Rare Positive Note
December 1st, 2013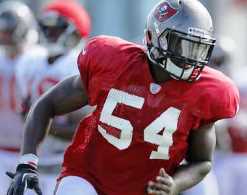 Maybe lost in the frustration of the Bucs getting back-alley beaten by the bullies known as the Stinking Panthers, is a bit of team history recorded today.
And no, it wasn't how Bucs quarterback Mike Glennon went all Parnell Dickinson in his first-half fumble that may have cost the Bucs three points (that is, if you believe Rian Lindell is capable of making a field goal of over 25 yards).
There was a play that went largely unnoticed by a player that may be one of the best to ever wear a Bucs uniform.
Lavonte David set franchise history today. The Bucs studly linebacker got a pick today. Nothing really new there. But it was his third of the season, which set franchise history.
David is the first player in franchise history to have at least five sacks and three picks in a season. Not even the great Derrick Brooks has been able to pull that off, though David is the first linebacker for the Bucs to have three picks in a season since Brooks in 2006.