Glennon Now Your Best Bucs Rookie QB
December 1st, 2013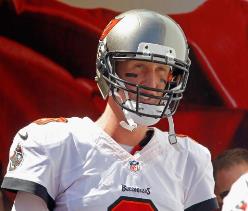 Joe believes there are still some diehard Freemanites out there. They will have you believe that leaky Rip Van Freeman was as innocent and pure as a fresh snowfall, that evil Bucs commander Greg Schiano had Freeman shackled and wouldn't let his franchise quarterback be himself.
To listen to the Freemanites, Schiano ruined the best quarterback the Bucs have ever had.
Well, the Freemanites can no long offer that complaint. Because Freeman is no longer the best quarterback the Bucs have ever had. Why, the numbers say so, in case you are wondering.
After today's less-than-stellar performance, Glennon now has more yards thrown by a Bucs rookie quarterback than anyone in franchise history. With four games to go, Glennon currently has 1,962 yards. That beats Freeman's 1,855; he's who is in second place. The immortal Bruce Gradkowski is in third place with 1,661 yards thrown as a rookie.