Quit Watch Sparked By Adrian Clayborn
December 2nd, 2013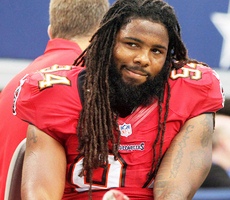 Greg Schiano and his supporters are going to have to forgive Joe here for dropping the dreaded "Q" word.
Joe is still in a state of shock over the end of the Raheem Morris administration, when the Bucs clearly rolled over for a belt-whipping over and over again. Serial loafer Sean Jones is a fixture of Joe's nightmares.
It's because of that painful experience that Joe's on high alert for signs of the Bucs quitting for Schiano. Yesterday and today, a red flag arose.
Speaking to reporters this afternoon at One Buc Palace, Adrian Clayborn offered an explanation of what went wrong with the Bucs in Charlotte.
"After watching the film we know why we lost, we wasn't playing with that much passion on every play," Clayborn said. "And we wasn't gang tackling and we wasn't doing the stuff that we'd been doing the past three weeks to win the game.
Can you put your finger on why, Adrian?
"No. I mean we started off good. But I guess stuff happens within the game and guys get frustrated, Clayborn said. "So we just gotta learn how to play through that stuff."
Joe's speechless. Perhaps Clayborn was referring to the lack of effort by him and others at the end of this key play? Frankly, that play made Joe want to vomit.
Now Joe's not going to go overboard and call the Bucs quitters. That just hasn't been the case.
And Joe's confident the Bucs will bounce back and play good football Sunday against Buffalo. But Joe's radar is cranked up tonight.
Justly so. (You can hear Clayborn's quote below, via WDAE-AM 620).