Awakened A Sleeping Giant
December 2nd, 2013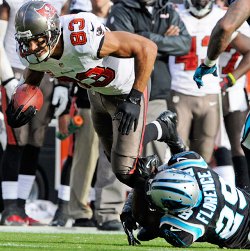 Joe wrote — perhaps prematurely on Twitter Sunday — when Bucs rookie quarterback Mike Glennon nailed Vincent Jackson in stride for a 60-yard pass inside the red zone, which should have resulted in points, that Joe was sold on Glennon as an NFL quarterback (not sure, yet, if he will be elite).
Funny thing is, the Bucs never got points off of that play because Glennon fumbled the ball away.
Another (not so) funny thing happened. Jackson was pretty much a non-factor the rest of the game because Drayton Florence, who was covering Jackson on that play for the Stinking Panthers, was so PO'ed about giving up a bomb, that he made sure Jackson's day was done, types David Newton of BSPN.
He was smiling because Jackson didn't catch another pass on him the rest of the game.

"You can't let one play worry you," Florence said. "You have to move on to the next play and make sure it doesn't happen again. The only way teams are going to beat us is if we beat ourselves."
It is almost like Glennon and Jackson woke the Stinking Panthers up from a nap with that play. It was all downhill after that.
That's one thing about the Bucs this season, when Bucs are going to lose, if you fall asleep at halftime, then you won't miss much.