Offseason Shopping
December 19th, 2013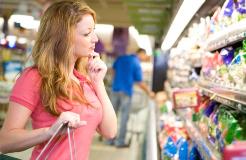 Yes, Joe already dove into how Bucs commander Greg Schiano feels the Bucs are a couple of pieces away from being a dominant defense. That's probably true.
Now when Schiano was pressed for what those pieces were by Woody Cummings of the Tampa Tribune, Schiano played dodgeball, only saying people who watch the Bucs closely already know what those pieces are and they would be addressed in free agency and the draft.
Then Schiano admitted he potentially may have one of those pieces already, citing Will Gholston as a potential stud.
If Gholston continues to rise as he has been, it's not a stretch to see him start next year. So that would take care of one defensive end slot. The other pieces, Joe would guess, would be an outside linebacker. Jonathan Casillas was an excellent pick but who knows when/if he can recover from his knee injury, and Dekoda Watson is a free agent in a few weeks, so who knows if he will even be wearing pewter and red in 2014. And perhaps a veteran defensive end would be targeted
Joe knows people are pining for Jared Allen, who will likely walk from the Vikings after this season.
But is Allen just a name people recognize? He's not bad, but Allen, who is hardly a spring chicken, really was just a shell of his former self this season despite his nine sacks. Is that just a one-season hiccup or is his play on the decline? In other words, buyer beware. If he still had gas in the tank, would the Vikings let him walk?
Another element to factor is Bucs rock star general manager Mark Dominik is not usually inclined to go after aging free agents.
Now Greg Hardy, who has had 19 sacks the past two seasons, is a guy to keep an eye on. But Hardy told the Charlotte Observer today he would be willing to give the Stinking Panthers a hometown discount to keep his services — doesn't seem like he wants to leave Carolina.
Now if Dominik could somehow land Hardy, that's a double-whammy. First, your defensive end issue is likely resolved and, two, you weaken a division foe. Win-win.