No Excuses For The Bucs Defense
December 8th, 2013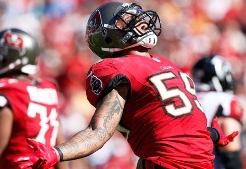 The Bucs will accomplish a rare feat when their defense takes the field this afternoon against Buffalo. Every opening-day starter will be healthy and ready to roll.
How often does that happen in Week 14 of a season?
Remember when the Bucs opened the year playing nasty, physical, swarming defense against the Jets, Saints and Cardinals?
Joe sure does, but Joe hasn't seen that unit in a while. And now Darrelle Revis is healthier. Presumably, Adrian Clayborn is, too. And rookies Johnthan Banks and Akeem Spence are starting with experience under their belts. Mark Barron is allegedly developing as a premium draft pick. Dashon Goldson now knows the defense, despite the occasional bout of "disturbing" communication. Mason Foster got a week off two weeks ago for head injury precaution, so his legs should be fresh. Plus, DaQuan Bowers should be brimming with confidence with his half-sack on the stats sheet.
This is Greg Schiano's defense. It's healthy. It's at home. It's got a typical rookie quarterback on the other side of the line of scrimmage today. Joe wants to see dominance.
Dammit, the Bucs have proven, elite talent at every level of the defense. Once upon a time, when a rookie quarterback with an average offense came to Tampa, the Bucs pounced like wild lions and tore the guy to shreds.
That should happen today. It likely has to happen for the Bucs to win.