Never A Bad Practice
December 1st, 2013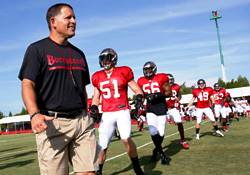 "To see them happy after a win, you know, because they work so hard. Throughout the entire beginning of the season, I don't think I can ever say that we went out to practice and their work ethic wasn't what we wanted it to be. So, when you have group of guys that are putting forth that effort, it's nice to see them be able to succeed and have a smile on their face after the game." — Greg Schiano, expressing his satisfaction in the Bucs' winning streak to the Carolina media last week.
Joe found the above quote rather telling. It came as part of Schiano's answer to a question about what sparked the Bucs' turnaround after going 0-7. 
It's a pretty amazing concept to consider the Bucs didn't have at least have one practice in which coaches were disappointed in the work rate. Is that possible?
If this is true, and Joe has no evidence to the contrary, then the Bucs' focus has been extraordinary in the face of adversity. Interestingly, that also would mean the steady, intense work rate at practice included sleepy, leaky Josh Freeman through his September to forget.
Joe's so damn curious to see how the Bucs finish this season. There's plenty of healthy talent on the Bucs, and they're working diligently. That's got to translate into competitive play and at least a couple of more victories.
Otherwise, Joe's got to point a finger at coaching.