"More Conservative By Design"
December 10th, 2013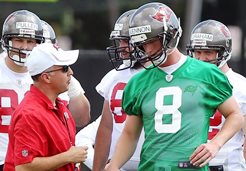 The Bucs' second half offense this season is as constipated as a dog on a Saltines and water diet. The Bucs try and try and try and rarely does anything good come out. The numbers are historically dreadful.
A caller to Greg Schiano on WDAE-AM 620 last night expressed his frustration and said the offense looks too conservative.
Schiano disagreed but agreed, and also shared his frustration.
"I can't argue with you on that. I don't think that it's conservative, per se. Now this scheme Sunday, it was a little more conservative by design. I mean, Buffalo was having trouble getting anything started offensively. And I really felt like the only way we were going to lose that game was if we turned the ball over. So we wanted to make sure we were smart with the ball," Schiano said. "But in second halves in weeks the last four or five weeks, I don't feel like we've been conservative. I just don't feel like we've executed very well. And I don't feel like maybe we've given ourselves the best chance for every single half with what we're doing.

"And you know it's not that we're not trying to, because when we make calls and we make adjustments as the game goes on, we're doing it only for one reason. And that's to score points. I know the players are trying to execute their jobs. But we've certainly had an uphill process in the second half. And we gotta get over that. To become the football team we want to become, we need to get stronger as the game goes on offensively."
Joe's heard this before from Schiano, but Joe, zeroes in on how Schiano seems to not be all-in with the playcalling. Obviously, that's good. He shouldn't be because it's not working. But as Joe's written previously, Joe sees growing evidence that Schiano doesn't have high marks for Mike Sullivan this season.
Joe will present more evidence of that later today.