Is Team Glazer Taking The Pulse?
December 29th, 2013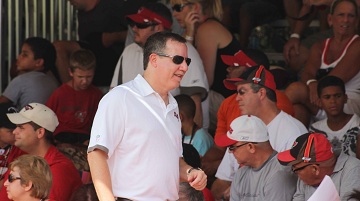 "Our fans are our stockholders. They're what we play for — the people in our stadium and the ones that watch on TV. That's what it's all about: winning and how they feel about the team. If they don't feel good about the team, then there's something wrong. . . I think you all know the sense that's out there. It was time for a change." Team Glazer, following the firing of Jon Gruden in January 2009.
When Team Glazer speaks, Joe listens. And they don't speak often enough for Joe to forget what they say.
Team Glazer issued that famous "stockholders" quote when Chucky was jettisoned following a 9-7 season. Team Glazer was clear; Bucs fans were down on their team and its direction, therefore Team Glazer took action to fire Chucky despite three years remaining on his massive contract.
Joe must assume the pulse of the fans and how they feel about the Bucs remains critically important to Team Glazer, especially given the Bucs' widely improved customer service, fan-friendly ticket pricing, concession and parking discounts for season ticket holders and many additional small touches for the core fan base over the past few years.
Those "Fire Schiano" billboards this fall had to sting Team Glazer — a feeling as strong as the euphoria surrounding the Bucs bouncing back to win four out of five games before getting spanked in the final three, including today's non-competitive, defense-free rollover to the Saints in New Orleans.
Joe's not sure how Team Glazer takes the pulse of fans, but Joe's confident the comments around these parts are part of the mix (as scary as that might be). Joe would advise fans who want their voices heard to write their best note to Team Glazer below, and then email it over to One Buc Palace.
A decision on Greg Schiano is coming soon. Be heard.