"I Put The Game On Me"
December 22nd, 2013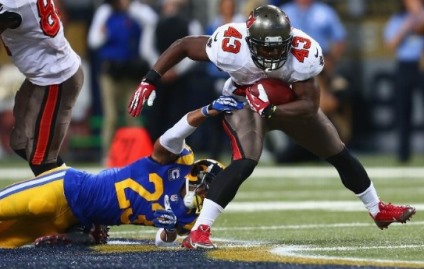 If you want to know why the Bucs lost, look no further than the rushing statistics. In the first half, Bobby Rainey's longest run was four yards. He averaged 1.1 yards in the first half.
He damned near doubled that amount in the second half, finishing with 1.9 yards a carry.
The main reason Rainey had such putrid numbers was that time after time after time after time the Bucs tried to run the ball up the one hole, between Jamon Meredith (who was totally worked over by the Rams and benched for Ted Larsen) and center Jeremy Zuttah.
Despite banging their heads against the wall, Bucs offensive coordinator Mike Sullivan almost refused to try anything else. The few times he did, Rainey had a nice little runs.
By midway through the second quarter it was clear this play was not going to work. Yet time and time and time again, Sullivan (on orders?) kept pounding Rainey. It didn't take someone running around with a white cane to figure out this play was dead.
Rainey is not Larry Csonka. He can't run through a mountain of men. He was getting drilled by three guys by the time he got to the line of scrimmage. If everyone in the friggin' Ed Jones dome could see this, if just about everyone half-sober watching on TV could see this, then why did not the Bucs coaching staff?
"I put the game on me," Rainey said after the game, referring to his fumble that gave the Rams some life.
No, Bobby, the game was not on you. If was on the guys wearing black shirts on the Bucs sideline that were asking you to do the impossible.