Glennon "Wasn't As Poor As The Stats"
December 9th, 2013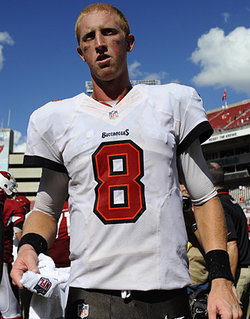 After defying the fantasy crowd's core beliefs and delivering a victory with heinous numbers yesterday, Mike Glennon is no doubt trying to forget his 9-for-25 performance that netted just 90 yards.
For this week, Glennon is dusting off the "Stats Are For Losers" line in Raheem Morris' old locker at One Buc Palace.
But Glennon did have his share of superior throws, and two were lost touchdowns, one caught by Vincent Jackson but thieved by a stupid NFL rule. And the other hit Tiquan Underwood in the chest.
Dave Moore, the former Bucs tight end and current team radio color analyst explained on WDAE-AM 620 this morning that Glennon was better than his box score.
"Going into the game you knew it was going to be a tough one for him. They're leading the league in sacks. They do a lot of blitzes. They show some things disguised. They're very unorthodox," Moore said of Buffalo. "And that really led the second play of the game to the 80-yard touchdown. They had nine guys, eight on the line of scrimmage, one guy behind. They're trying to give difficult looks. They get a lot of sacks. They're very active in the defensive front.

"So when you look at his statistics, he didn't complete many passes and he had two interceptions. …

"But a lot of those incomplete passes were he was feeling pressure. He had to throw it before the route was finished because they didn't run effectively on first and second down. So he's waiting on things to happen. Shovel pass? Bad decision. I mean he made some great throws and he made some not so great throws. But that's kind of what you get out of a rookie quarterback. But I think it wasn't as poor as the stats will tell you. But yet he'll tell you he didn't play a great game. There was some pressure and to avoid the sack he was getting rid of the football. And, you know, you're going to take all those incompletions rather than forcing something. So, it's definitely not what he wanted it to be. I think the jury's still out because he made [good throws], back of the end zone to Vincent Jackson, that's as good a throw as you're going to make. He had two guys in front of him; [Glennon] put it only where Vincent can get it." 
Joe's on board with much of what Moore says, but 9-for-25 is still darn ugly even with the drops and great plays mixed in. That kind of outing is what got Josh Freeman run out of town, and if those numbers continue in the final three games, then Joe will not be alone in screaming for Johnny Football.
To be fair, Glennon was playing with a big lead in the second half, which changes playcalling quite a bit. Glennon just has to bounce back. The best way for that to happen is for the Bucs to recover their consistent running game. It's been gone a while now.