Bucs Not Same Team As Before
December 9th, 2013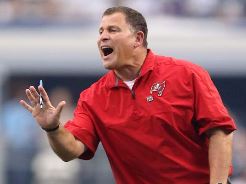 Joe actually had to do a hyper double-take last night (you know, like in the Bugs Bunny cartoons) when he was reading quotes from Bucs commander Greg Schiano about the difference in this team.
Schiano was asked if this was the same team, that has now won four of its last five games, as the dreadful winless one during the first half of the season. To Joe's absolute amazement, Schiano doesn't think there is much of a change.
"I don't know if it's that much of a difference, really," Schiano said. "We're finding ways to win the game, but I mean, against good football teams [earlier in the year], we were in games, [but] we just found ways to lose games; literally, you look at it and say we invented ways to lose some games. I'm just worried about where we are now. We've got a heck of an opponent coming in Sunday, so we've got our work cut out for us. I know our guys are excited about it. It was a physical game [today], so we're going to have to see how we fare. We don't have a lot of wiggle room right now. I am glad to see we got some guys in there at the end, actually throughout the game – guys like [wide receiver Russell] Shepard who jump in there, not only on special teams, and did a great job. He's been doing a great job all season, but [he] jumps in on offense and does some things. Maybe it doesn't show up on the stat sheet, but it shows up blocking and [in other ways]. We'll just keep pushing everybody forward. [Tight end] Timmy Wright, again, came up with a big third down conversion. We've got to keep pushing him forward."
Joe is confident this is a totally different makeup of a team than what the Bucs trotted out there the first half of the season. Yes, the Bucs may still have the same work ethic and attention to detail as before, but this is a different team.
First, leaky Rip Van Freeman is gone and the aftermath is largely over. Second, Darrelle Revis is pretty close to 100 percent. That makes a world of difference. Third, rookie Johnthan Banks has developed into a solid starter.
One could also argue that Bobby Rainey, for whatever reason, has been more effective than Doug Martin. The first half of the season the Bucs really didn't have a tight end. Now, Tim Wright seems to be developing into a reliable guy.
Not sure who or what Schiano was trying to protect (probably the guys on the injured reserve list, which is admirable), but no, this is not the same team that gagged away games for the first eight weeks.
Often, well-coached teams get better over the period of a season.