Defensive Player Of The Year?
December 12th, 2013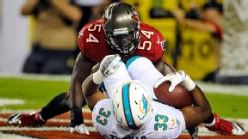 Joe is searching for words to continue boasting about the greatness of Lavonte David, and Joe's running dry of superlatives without being redundant. Sometimes, the numbers speak for themselves.
It's getting to the point where Joe likens David to Albert Pujols in his prime. No need to try to convince anyone how extraordinarily good he is, just sit back and enjoy the show.
David is playing at such a high level, that he is even turning the heads of ornery types like that of prickly Pete Prisco. The CBS Sports NFL scribe, who some refer to as the Skip Bayless of Twitter, is now on the David bandwagon and Prisco seems to be launching a campaign to have David named NFL Defensive Player of the Year.
Tampa Bay linebacker Lavonte David is a beast and now a candidate for Defensive Player of the Year. He had two picks against the Bills and a sack. He now has five sacks and five interceptions. That's enough to get him into the conversation.
Then, Prisco, as he is wont to do, turned to Twitter.
@PriscoCBS: Spent the past couple of days studying Lavonte David. Get that man in the DPOY talk. Beast
Should David be discussed as Defensive Player of the Year? You bet. Will he be named? Joe will be willing to lay cash he won't.
This is not to say David isn't deserving. He is. But it is hard to see how a player, unless he is the second coming of Lawrence Taylor, can be named Defensive Player of the Year when, at best, his team will have seven wins.
It doesn't help that most remember David's gaffe in New York on Opening Day that cost the Bucs a win. It happened in the media capital of the world. Had that happened in, say, Jacksonville or St. Louis, few eyeballs would have seen it much less remembered it.
Sadly, too few who vote for player annual awards don't see or watch all NFL games, only highlights. That play to set up the Jets win is seared in people's memories. Thankfully, for David, his play is overshadowing that dark moment in Gotham.