Bucs Have Good Intel On EJ Manuel
December 5th, 2013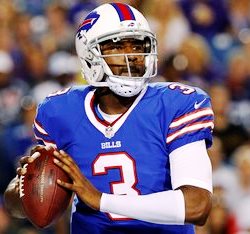 It's sort of neat to understand how, in part, a couple of Bucs players found their way onto the roster.
When Bucs commander Greg Schiano accepted the job as Bucs coach in January 2012, he knew a lot of guys who entering the NFL draft or soon to enter the draft because he had recruited many of them.
Leonard Johnson and Mike Glennon are two guys Schiano recruited hard to join him in Rutgers. While neither player did, they left a large enough impression upon Schiano, that Schiano came calling in the NFL.
Well, the same might be said for Buffalo Bills rookie quarterback EJ Manuel. Schiano too tried to recruit him during his high school days in Virginia, but alas, he chose Florida State instead.
Schiano discussed this yesterday.
"I can go even further back. He was in that same group of guys that we went up to evaluate when I was recruiting him out of high school, so we recruited EJ out of high school, [quarterbacks] Coach [John] McNulty and myself, so we go back a ways," Schiano said about how long the two have known each other. "He's a really fine quarterback and a great young man. He is mobile, got a big arm, I think he's a smart guy, he's got all the tangibles – intangibles rather – that's one thing we really liked about him. And then coming out in the draft we also felt that – we knew people that had coached him at FSU [Florida State University] that spoke very highly of him as well."
So apparently the Bucs were doing their homework on Manuel in the draft last spring, huh? (Conspiracy theorists, feel free to weigh in on that.)
The good thing for the Bucs in this is that Schiano may have done enough research, and knows Manuel well enough, that perhaps he knows or a weakness or crack in the armor that most coaches don't (yet) know, and Schiano, if the game is tight, plans to expose.
Let Joe just say this: He likes the Bucs chances with the ball in Manuel's hands. Joe met Manuel last year at the combine and everything Joe was told was true. Whatever Manuel does in life after football, he will be wildly successful. Few players Joe has met are as impressive as Manuel.
But Manuel is still a rookie. And the Bucs lead the NFL in interceptions. And Schiano knows Manuel like few coaches do. Joe's not very fond of math, but he does like how those three facts add up.