Warren Sapp Unleashed
November 7th, 2013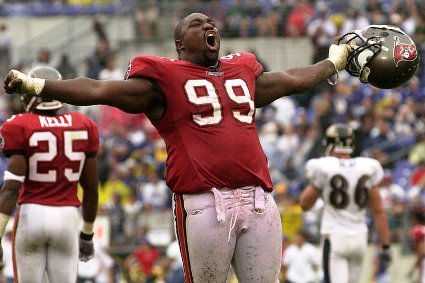 Bucs icon Warren Sapp dropped by One Buc Palace yesterday and held court with the local pen and mic club, regaling all who would listen with stories about the Hall of Fame, having his jersey retired Monday night, how Richie Incognito dropped the N-word on him in a game, how offensive linemen are cattle and just as important, the 2013 Bucs.
Sapp went on a fiery sermon about how he thinks in some ways, current defensive tackle Gerald McCoy is better than he is, and how he had a sitdown with Bucs commander Greg Schiano, hoping to convince Schiano to change his defense in order to allow GMC to get to the quarterback better.
"I'm not going to turn a blind eye," Sapp said of his recent harsh comments about how the current coaching staff uses cornerback Darrelle Revis and GMC. "It's nothing personal. I've always called a spade a spade. That's why I have the job I have."
Sapp went on to say how much he loves the Bucs and the Bucs will forever have his heart noting that the better the Bucs play, the more his legacy with the franchise lives on.
This is vintage Sapp. Emotional, passionate, loud, opinionated, over-the-top, speaking from the heart, no holds barred. It why he does such a wonderful job working for the NFL Network.
Hear Sapp preach for 13 full minutes by clicking the orange button below.