The Bucs And Hazing
November 6th, 2013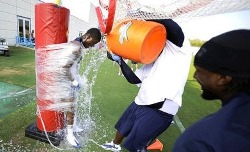 It just so happens the next Bucs opponent is embroiled in a controversy that makes anything that went on at One Buc Palace this season — including sleepy, leaky Josh Freeman's antics — pale by comparison.
If reports are true, Dolphins coaches ordered a Code Red on left tackle Jonathan Martin and rookie rituals against him went from sophomoric stunts to hazing to financial shakedowns and threatened assaults against his family.
Joe spoke to a couple of Bucs players today about rookie rituals. Rookie defensive lineman Steven Means said he had to do some things but he thought they were all innocent.
"Every rookie had to do little stuff like bring in the pads, go get donuts, little stuff like that," Means said. Team leaders, "they took care of us for the most part, guys on the team."
When asked who was watching after him to make sure things didn't get out of hand, Means quickly said, "Gerald."
As in Bucs defensive tackle Gerald McCoy.
Jonathan Casillas was a rookie with the Saints five years ago and went through hazing, but he admitted it wasn't anything remotely close to what Martin had to go through with the Dolphins.
"I was a rookie five years ago, I had a little hazing but I wouldn't call it bullying," Casillas said. "It was more like a rite of passage. That is what I felt and I think that is what i have been a part of here.
"You know, sing your college fight song. Make sure the linebacker room — we had a fridge in the linebacker room — make sure it is packed with juice and water and go get food, donuts, stuff like that. Nothing crazy.
"Every once in a while if you revolt or get out of line, you got taped up. It wasn't nothing serious."
Look, having to haul in pads, go get donuts, go get pizzas, having to buy a dinner (within reason) is nothing. Texting dudes you are going to do a No. 2 in their mouth and claiming you are going to cap their parents, that's way beyond hazing. That's abuse at best and criminal at worst.
Good to see the Bucs had guys like GMC and Casillas around to make sure things didn't spin out of control.