Schiano Lauds Dominik For Rainey Signing
November 12th, 2013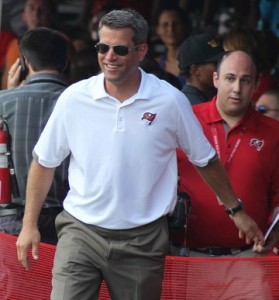 Interesting nugget here from the happy postgame interview exclusive to the Buccaneers Radio Network. Greg Schiano lauded rockstar general manager Mark Dominik for signing running back Bobby Rainey, who scored the winning touchdown last night.
Rainey was waived by the Browns and the Bucs plucked him off the streets on Oct. 21.
"You know, we didn't really have a need at that point [when Rainey was signed.] But there's a good player, and if we can get a good player on our roster we need to do it. Boy, we were grateful to have him tonight," Schiano said.
Obviously, that's Dominik's responsibility; monitor all NFL movements and be ready to pounce wisely. Schiano's job is to assess the talent and work with it or cast it away. In this case, unlike with some lost D-linemen, Schiano made the right move.
Hear the full Buccaneers Radio Network interview below. Schiano tells a neat story about Donald Penn's touchdown catch.