Rian Lindell Should Be Terminated
November 24th, 2013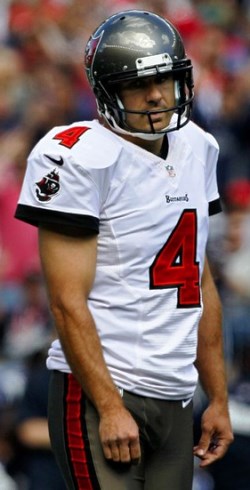 In the middle of this feel good evening (without the benefit of alcohol for Joe, if you can imagine), Joe must interrupt with ugly news.
Rian Lindell, do not board the Bucs' team bus leaving Ford Field for the airport. Just hop a cab and go to the Southwest counter and get your one-way ticket home. Back to Portland.
No, a win didn't mean much today outside of temporary glee. Still, Mr. Lindell, you did your best (again) to see that the Bucs lose. You missed critical field goals in the second half that could have iced this win for the Bucs. Instead, you gave the Lions every opportunity to win.
Yes, you. If the Lions could have somehow gotten out of their own way, they would have won. Thanks to your missed field goals.
Yeah, Mike Glennon didn't help you out much by taking an idiotic sack pushing the line of scrimmage back. But that was still a makeble field goal. You had the distance.
This isn't the first time you let this team down. Does Joe need to remind you of the Saints loss at home?
Lindell should not be allowed back at One Buc Palace and should not be allowed back in the city limits of Tampa unless he is dropping cash to go to Busch Gardens.