Revis Returns To Practice, Still Questionable
November 29th, 2013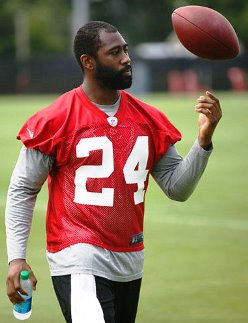 The Bucs' $1-million-per-game cornerback, Darrelle Revis, was back practicing today after injuring his groin in Detroit. That's a great sign. It's rare in NFL cirlces for a player to play on Sunday if he doesn't practice Friday.
Officially, Revis was "limited" in practice, per the Bucs.
An MRI on Revis earlier this week helped clear him to start playing again, and Revis was upbeat to Joe on Wednesday about his condition.
Fingers crossed for Sunday in Carolina. The guy's impact can't be discounted, especially with Panthers receiver Steve Smith banged up.
While speaking to the Tampa Bay pen and mic club in the locker room after practice, Revis said his strained groin feels "way better" than it did earlier in the week but he admitted he is still not 100 percent.
Revis said it will be a "game-time decision" whether he will be able to go or not. Revis seemed a bit more upbeat about his condition than Bucs commander Greg Schiano who said Revis is "questionable" for Sunday.