Pressure Largely Removed From Bucs
November 14th, 2013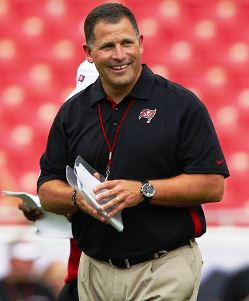 There is always pressure for all employees in the NFL — pressure to win, pressure to make the team, pressure to put players in position to play well, pressure to coach players up.
It is all about winning. It's why there is a scoreboard. It's why there are standings. It's why some coaches are held to lofty heights while others are eviscerated for losing.
With the Bucs this season, loss followed a loss followed another loss followed yet another loss. Week after week after week. Eight weeks in a row, in fact. Each week, Bucs coach Greg Schiano suggested, the noose got tighter, the blood pressure ratcheted up, the blood sugar rose. Headaches never left.
So the biggest thing that happened for the Bucs, in Schiano's eyes, following the win over the Dolphins on Monday Night Football is the extreme pressure has widely evaporated for the team.Schiano spoke about this while appearing on "Late Hits," co-hosted by Alex Marvez and Gil Brandt, heard exclusively on SiriusXM NFL Radio Wednesday night.
Alex Marvez: Nice win over the Miami Dolphins, you are in the win column, finally. What does a victory like that do for the team as you prepare to play the Atlanta Falcons?

Greg Schiano: Well, I think it was important, as the season goes on and you continue not to have a win, that pressure mounts on the players and coaches alike. You get that one off of your back and it frees them up a little bit and you just go play. We have a ton of injuries on offense but on defense we are relatively healthy, so, if you are going to have injuries, I always believed it's better to have them all on one side. We had some guys step up in a big way so going into Atlanta, we are a little short-handed offensively but we have some young kids who are finding their way.
Another thing that worked in Schiano's favor, speaking of freedom, was allowing Bucs pass rush specialists on the defensive line to, you know, actually rush the passer. Imagine! And look at the result on the final defensive stand: two sacks and a pick. That's old school Bucs defense.
It will be interesting to see how this relief of pressure helps the Bucs, as Joe believes Sunday's Dixie Chicks game, despite their record, is hardly a slam dunk.