Mark Barron Beginning To Break Out
November 8th, 2013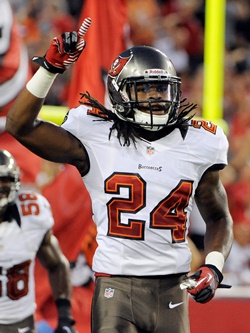 The losing by the Bucs this season — well, it began well into last season — has so rankled Bucs fans that in desperation, they cling to any positive element as a sign of better things to come.
Things have to get better, right?
Last week, Bucs safety Mark Barron — along with tackling machine Lavonte David — recorded double-digit tackles. Oh, he also had a pick and now leads the Bucs with a grand total of two interceptions (Joe isn't knocking Barron here, but halfway through a season if your team leader in interceptions has but two, something is very wrong).
It was one of the better games Barron had as a pro and, the numbers, regurgitated by Woody Cummings of the Tampa Tribune, point to Barron emerging as an NFL stud.
Statistically speaking, second-year Mark Barron is having one of the best years of any Buccaneers defender. His two interceptions lead the team and his 55 tackles rank second.

Those numbers have also put Barron among the most effective defenders in the league. Barron is one of only six players in the NFL to have at least 50 tackles, four pass breakups, two interceptions and a sack this year.
Joe can sense some Bucs fans muttering under their breath, "About damned time." Barron was the seventh pick in the 2012 draft and, though at times flashing superior skill, he hasn't really put it all together like many thought he would coming out of Alabama. Cummings' number cited are encouraging.
Now if Barron can just lock down the elite tight ends the way Bucs rock star general manager Mark Dominik projected him to do when he called Barron's number two springs ago, then the Bucs will have one helluva safety tandem with Barron and Dashon Goldson.