Golf Clap For Mike Glennon
November 19th, 2013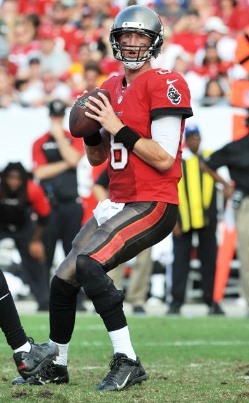 Former Bucs scout, Jets linebackers coach under Monte Kiffin, Jets pro personnel director and current CBS NFL insider and co-host of "Movin' the Chains," heard exclusively on SiriusXM NFL Radio, Pat Kirwan, has been down on the Bucs most of the year.
He frowned upon some offseason moves and was highly critical of Bucs rock star general manager Mark Dominik — who he likes — for not replacing Michael Bennett, and he's never been overly enamored with Bucs commander Greg Schiano.
The tide, however, may be turning. In a CBSSports.com column, Kirwan, who was a big fan of former franchise quarterback, sleepy, leaky Josh Freeman, has had an epiphany of sorts.
After Glennon roasted the Dixie Chicks defense Sunday, Kirwan seems to now be all in on Glennon.
1. Good call by the Bucs

The Tampa Bay Bucs were criticized for releasing QB Josh Freeman. A young QB with size, a strong arm and who threw 27 touchdown passes in 2012 and 80 scoring passes over 60 games doesn't get cut in a league starving for quarterbacks.

But the Bucs saw something in Mike Glennon, and the 6-foot-6, 24-year-old is getting better every week. Sunday's win over Atlanta was his second straight; neither Geno Smith nor EJ Manuel has managed to string together consecutive wins.

Glennon has thrown 248 passes with 11 touchdowns and only four interceptions. Watching Glennon go 20 for 23 with two TDs and no picks vs. Atlanta was impressive. Don't be surprised if Glennon winds up leading rookie QBs in TD passes and finishing with at least 20.
Can you imagine if Freeman was still behind center and all the hand-wringing and screaming and yelling and bellowing that would still be going on? Joe can just about promise the Bucs would have quit on Schiano if Rip Van Freeman was still here.
Is Joe sold that Glennon is the franchise quarterback? No, but Joe is nonetheless impressed with Glennon. He has made strides.
Why not draft a quarterback in the first round? Schiano likes competition, right? Glennon buys the kid (ahem Johnny Football) time to get acclimated to the NFL and if the rookie is a bust, Glennon is a great safety net. Who knows, the rookie may even push Glennon to be better.
That's what Joe calls a win-win.