Gerald McCoy > Ndamukong Suh
November 26th, 2013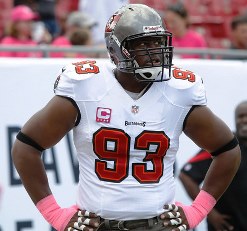 Only desperate types continue to beat the drum that Gerald McCoy is a subpar player in the NFL. Virtually every out-of-town NFL coach that speaks weekly to the Bucs pen and mic club, virtually every Bucs player, virtually every Bucs coach, gushes over the play of McCoy.
Now in his fourth season in the NFL, GMC, despite the idiotic stunts Bucs defensive coordinator Bill Sheridan is in love with, has become an elite NFL defensive tackle if not the best in the game.
Playing Sunday on the same field as Ndamukong Suh, a guy who was drafted one slot ahead of GMC and who GMC forever will be compared to, GMC was better, per the analysis of Sam Monson of ProFootballFocus.com.
Winning the Battle of 2010

There was a lot of talk before the 2010 NFL Draft about which stud DT prospect – Ndamukong Suh or Gerald McCoy – would be the better player at the next level. As it turns out it looks as if that draft has provided three stud 3-tech DTs in that pair and Geno Atkins, but in this game it was McCoy that outclassed Suh. The biggest difference between them, though, might not be in grade, but in how much help each had around him. Suh was one of six members of the Detroit front seven to grade in the green in this game while McCoy was joined only by LB Lavonte David for Tampa Bay. The Buccaneers only generated 16 total pressures all game, and McCoy was responsible for eight of them. He has the kind of quickness and strength to dominate linemen at this level and he has really been playing well this season. His lowest grade of the year so far was a +1.0 back against the Saints and this +8.8 represents a new career high.
Joe vividly remembers just a couple of weeks ago in the Bucs media room where Bucs icon Warren Sapp — eyes bulging out and mouth agape — was just drooling over GMC's play against Seattle and Sapp flatly said in that game, GMC "couldn't be blocked."
Sapp went on to say that was one of the best games he's ever seen a defensive tackle have in recent memory and that McCoy may be better than him.
Regardless, GMC is now in elite status in NFL circles.
Damn that Bucs rock star general manager Mark Dominik!