From "Fire Schiano" To "Reversed Course"
November 18th, 2013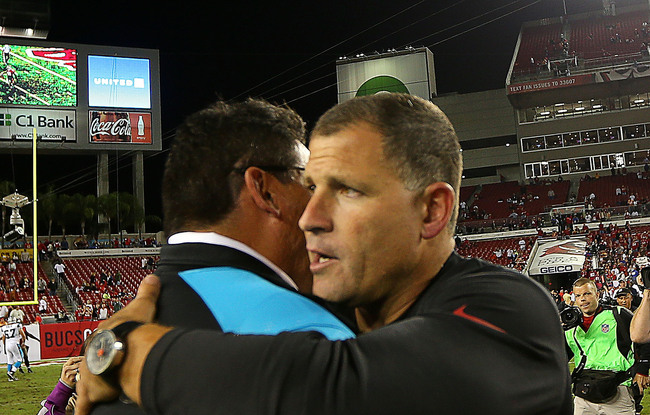 Joe understands the concept of changing one's mind, but this example is oddly extreme.
Bucs beat writer Scott Reynolds, of Pewter Report, boldly and loudly called for Mark Dominik to fire Greg Schiano if the Bucs opened the season 0-5. And then the Bucs promptly opened 0-5, and Reynolds typed up a detailed case of why Dominik should wise up and send the leader of the New Schiano Order to the unemployment line.
But now Reynolds has "reversed course." Reynolds, typing before yesterday's win, served up a detailed explanation of why Schiano having to deal with Josh Freeman somehow releases the head coach of responsibility for the mess of the Bucs' early season losing.
When the Buccaneers lost to the Philadelphia Eagles 31-20 in a Week 6 contest to drop to 0-5, PewterReport.com called for head coach Greg Schiano to be fired. There was a disconnect between the players and the coaches, and more importantly, Tampa Bay had lost 11 out of its last 12 games, which was the same 1-11 record Raheem Morris had over his last 12 games before being fired.

We reported the facts as we knew them at the time and felt justified in calling for an in-season regime change. One of the reasons PewterReport.com used in determining that the Bucs needed a head coaching change is that Schiano had bungled the development of quarterback Josh Freeman, who was benched after Week 3 and released a week later after he and his agents had become a distraction by – according to the Buccaneers – leaking information to the media that when reported would look like it was leaked by the team.

After weeks of digging, PewterReport.com has reversed course … (You can read the long explanation here.)
Joe finds this mystifying. Coaches are responsible for losses, poor execution, and getting outcoached — things that happened routinely to the New Schiano Order over a dozen games until last Monday night. These are major sins for a head coach, yet Reynolds is serving up complete absolution?
Joe's stance on Schiano is simple: prove you can win.
The Bucs are a talented team that did run into unique problems in the first half of the season, some of them self-inflicted. But that mess is in the rearview mirror. If Schiano proves he can play winning football against a tough schedule, then he deserves to stay. Six games remain.