Davin Joseph Puts His Foot Down
November 14th, 2013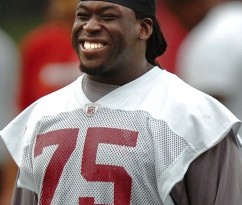 Prior to the choking loss to the Seahawks, where the Bucs watched a three-touchdown lead vanish, easily the most disappointing unit throughout the Bucs season was the offensive line.
Thought to be a strength, the offensive line was getting worked over by many opponents, and Pro Bowl running back Doug Martin struggled to find creases to run through, and struggled mightily as a result.
But beginning with the Seattle game two weeks ago, the offensive line has been reborn. With Jamon Meredith inserted as the starting left guard, the Bucs have been pounding opponents, blowing open wide holes for running backs.
The Bucs look like a different team.
It would be easy to point to the move of Meredith into the starting lineup as the catalyst for the success of the line, but that may be a little too simple, suggested Demar Dotson. The Bucs' starting right tackle believes a Come-to-Jesus meeting, where right guard and former Pro Bowler Davin Joseph demanded better play, kick-started the Bucs to block better prior to the Seattle game.
"Davin called a meeting and said enough is enough," Dotson said. "We have to run the football and that's what's going to get this team going, and we took pride in it and put it on our shoulders and that's what we're taking pride in right now."
Joseph is one of the coolest guys in the locker room. The term "even-keeled" personifies Joseph. So for him to take charge like that is a bit surprising but Dotson claims Joseph can and does behind the scenes.
"He has that type of personality," Dotson said. "He's just more quiet and laid back with it. He's not a rah-rah in your-race with it, wanting all the attention. But he's definitely the leader of this football team and of this offensive line, and he brought us all together and said we have to run this football for the football team to win games.
"He's not just a guy who leads by his words. He leads by his actions. And he goes out every day and works hard. So when that guy, who's been in Pro Bowl, is out there giving it everything he's got, you can't help but follow his lead."
Joseph confirmed that he had enough of subpar blocking by both himself and his offensive linemates.
"Oh, when it comes to football I am very aggressive and assertive and all that good stuff," Joseph said. "In life, I like to enjoy it so I smile and I enjoy certain things just like everybody else. When it comes to football, this is what we do to feed our families and earn our living. Definitely a certain amount of respect and time and everything you have to put into the game to expect the kind of results that you want."