Darrelle Revis Still Not 100 Percent
November 2nd, 2013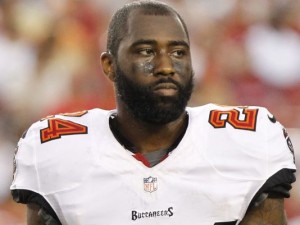 Bucs fans seemed to have rejoiced this week when they learned All World cornerback Darrelle Revis was going to play more man-to-man defense.
In what Joe believes was the most manufactured story in recent times, fans were all aghast that Bucs commander Greg Schiano was using Revis too much in zone defense. Weeks ago Revis admitted he wasn't quite fully recovered from his knee surgery last year, so Joe thought this was a no-brainer why he wouldn't play man defense. Yet Bucs fans fumed hysterically.
Well, word came Thursday from the locker room at One Buc Palace from the very lips of Revis himself; he still isn't 100 percent, but well enough to play more man defense.
"It's a process; it's a process that you've got to go through. Sometimes it takes a while, but it's a process. I'm not all the way there yet, but you've got to change your game up and that's what I had to do," Revis said. "I'm getting back to myself. The last game I pressed [Panthers wide receiver] Steve Smith every chance I got, so I'm getting there. It's a process. I just have to keep on strengthening my leg and getting stronger."
Revis admitted rust more than a lack of stamina kept him from his Revis Island press coverage. Revis felt he needed a specific number of reps playing man-press where he felt comfortable increasing his workload in such a defense.
So now Bucs fans can rest easy at night. Revis, getting healthier, having enough reps to shake off the early-season rust, will play more man-press as the season grows older.