Was Raheem Morris This Bad?
October 23rd, 2013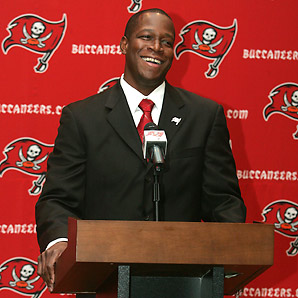 Joe has to give credit to Pewter Report chieftain Scott Reynolds. He has taken a bold stand and shows no signs of budging.
When the Bucs started off the month of September terribly, Reynolds declared that Bucs rock star general manager Mark Dominik should rise up and fire Bucs commander Greg Schiano if the Bucs fell to 0-5.
The morning after the Bucs posted an 0-5 start, Reynolds held firm. Fire Schiano, Reynolds typed.
This week, Reynolds comes with more ammunition and dares to suggest that the Bucs were better off with his predecessor, Raheem Morris.
Not much has changed with Schiano. He's lost 11 games in a 12-game stretch – just like Morris did in 2011. And that was good enough to fire Morris.

Although Morris didn't have a healthy defensive tackle Gerald McCoy in Pro Bowl form, nor did he have Pro Bowl cornerback Darrelle Revis, Pro Bowl free safety Dashon Goldson, Pro Bowl guard Carl Nicks, Pro Bowl wide receiver Vincent Jackson, Pro Bowl running back Doug Martin, star strong safety Mark Barron and star linebacker Lavonte David like Schiano does.

Instead, Morris had defensive tackle Frank Okam, cornerback E.J. Biggers, free safety Cody Grimm, guard Derek Hardman, wide receiver Arrelious Benn, running back LeGarrette Blount, strong safety Sean Jones and weakside linebacker Geno Hayes to work with, and still managed to win 19 games in three years and coach the Bucs to 10 wins in 2010. Morris didn't have nearly as many assistant coaches as Schiano does, and didn't even have a defensive coordinator – as he did both jobs from the midway point in 2009 through 2011.
The one thing — about the only thing — Joe gave Morris credit for is that Morris and his staff made adjustments during the games, which seems to be the polar opposite of Schiano (how else to explain the Bucs have a grand total of one — one! — second half touchdown this season?). Morris' problem, among others, was that his teams were woefully unprepared week after week and were constantly playing catch-up after giving up early leads.
At least Schiano's teams aren't getting alley-beaten by the likes of the miserable Jags like Morris' squads were. Often, Schiano loses by the skin of his teeth.
Reynolds goes on to document that Schiano's winning percentage currently stands at 31.8, the coach Reynolds refers to as the "Original Schiano," Ray Perkins, has a 33.2 win percentage and next in line is Morris at 35.4. (John McKay, sired with an 33.3 winning percentage, began his expansion Bucs coaching days with a 2-26 mark.
Bumbling Leeman Bennett should somehow receive an award for only winning 12.5 percent of his games, which likely kept local Alcoholics Anonymous counselors busy.