The Eagles Don't Like To Blitz
October 13th, 2013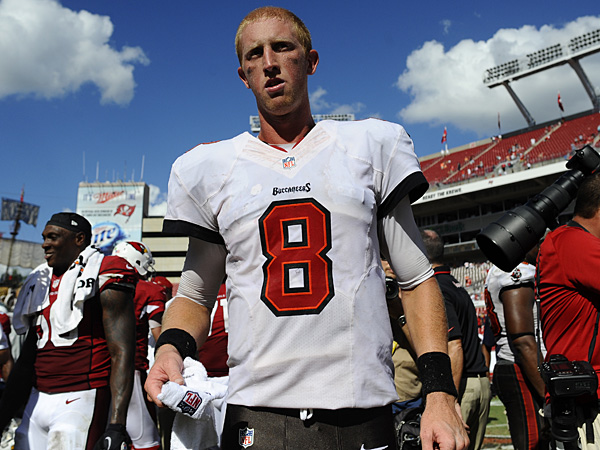 One would think Mike Glennon would be bombarded by pressure until he proves he can lead an offense to more than a touchdown in a game and not throw interceptions.
But don't be so sure the Eagles will come after Glennon today, so writes Bob Ford of the Philadelphia Inquirer. Ford penned an interesting Xs and Os look at the Eagles' defense and their lack of success/interest in blitzing. Joe recommends the read.
Thus far, the Eagles have not been a blitzing team, and when they have blitzed the tactic hasn't been significantly more successful than just playing straight up. They are 28th in the league in sacks per pass play, and it could be that coordinator Bill Davis doesn't think the risk of detracting from pass coverage and run-stopping ability is worth the limited reward of sending extra men after the quarterback.

Ah, but the lure of going after a rookie quarterback, particularly a lanky 6-foot-7 target like Mike Glennon, who has a great arm but legs that aren't usually able to get him out of trouble. What then?

"You know, here's my opinion. You do what you're good at," outside linebacker Connor Barwin said. "If it's pressuring, then you pressure. If it's not pressuring, then you don't pressure. You don't change up every week because of who you're playing. You do what you do and you do what you do good."

At least statistically, that's not a long list for the Eagles. What they have mostly chosen to do is put the outside linebackers near the line of scrimmage, so the quarterback is really looking at a 5-2 formation. Then, depending on the call, the linebackers either drop into coverage, stay put to man the outside lanes, or go after the quarterback. The Eagles don't like to steal from the defensive backfield or bring the safeties too close to the ball, and they don't like to make the inside linebackers do much more than react and mind their two running gaps.
Again, the story is a good read.
Joe's confident the Eagles will load up against the run and come after Glennon, at least early in today's game. Joe can't think of a reason why the Eagles would want to give Glennon the opportunity to get comfortable in the pocket and gain confidence. Glennon got that chance early against Arizona, but he unraveled in the second half.