NFLPA: Schiano Leaked Freeman's Info.
October 12th, 2013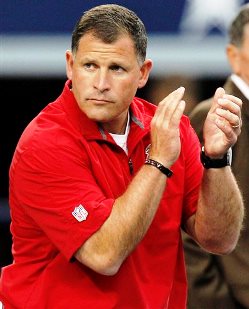 Of course, the circus hasn't left town. It has pounded down stakes and the elephants still roam around One Buc Palace.
In a story typed by Tom Pelissero of USA Today, the NFLPA has gone on record claiming, after a cursory investigation, that Bucs coach Greg Schiano is the source of the various leaks on defrocked Bucs franchise quarterback Josh Freeman's confidential information.
And the NFLPA contends it has information the original breach occurred when Schiano discussed Freeman's status in the league's substance-abuse program with other Buccaneers players, prior to the quarterback's Oct. 3 release.

Freeman, 25, confirmed he's in stage one of the substance-abuse program in a statement Sept. 30, hours after ESPN reported the same, citing unnamed league and player sources.

But Freeman – now with the Minnesota Vikings – said he has "NEVER tested positive for any illegal drugs" and voluntarily submitted to additional testing after a positive result triggered by switching his ADHD medication without notifying the league.
Now, Joe would like to know when exactly is "prior?" Chris Mortenson ran a story detailing Freeman's involvement in a drug program before he was released. If Schiano did discuss this with Bucs players after the report, then Freeman's info would have been public record by then.
Joe has come to the conclusion that the circus is not leaving One Buc Palace for some time. It will likely be there the rest of the season if not for months afterwards. Joe just has to be careful to not step in tiger droppings.