Praise For Freeman's Work Ethic
October 3rd, 2013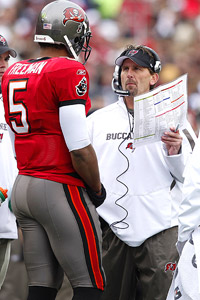 As the NFL buzzes about a potential landing spot for former Bucs franchise QB Josh Freeman, one of his former position coaches (sadly he had four in five seasons) spoke out to share his love of Freeman.
Alex Van Pelt, the former NFL QB and Bucs QB coach (2010 & 2011), told BSPN that Freeman was a model leader and workhorse.
"I loved Josh," Van Pelt said Thursday. "Josh and I had a good working relationship. He was nothing but a pro when I was there with him. He was never late for meetings. We actually had 6:30 (a.m.) quarterback meetings; we were an hour before anybody else, and I never had an issue or anything like that. He did everything that I asked him to do. 

"He was a great teammate, watched him work around the other guys and had a lot of respect for him. I don't know what happened, but I know the guy that I was there with I really enjoyed being with." 
When asked whether Freeman could still be an NFL starter, Van Pelt said: "No doubt." 
Van Pelt is now the running backs coach for the Packers. It's not like he's been unemployed sitting on a couch somewhere drinking beer.
So Van Pelt says Freeman was a model teammate in 2010 and 2011, and the New Schiano Order viewed Freeman as worthy of leading the Bucs in 2013, after studying him for all of 2012.
It's hard to understand why things went so wrong so fast.