Per Invitation, Fans Did Show Up
October 22nd, 2013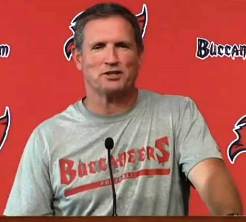 Last week, Bucs defensive coordinator Bill Sheridan, amid a non-controversy of how the Bucs were misusing (?) All-World cornerback Darrelle Revis, partly in jest, invited Bucs fans to show up at 5:20 a.m. at One Buc Palace. These fans could have all the free Cokes they desired, Sheridan said, and spend all day and much of the night helping him and his charges to come up with proper game plans for opponents.
Well, a few fans did take Sheridan up on his offer, but they were rebuffed at the gates of One Buc Palace on Monday morning.
Sheridan was asked today if fans tried to take accept his invitation, and he simply said, with a grin on his face, "Yes… yes."
Sheridan confessed a few fans were waiting when he drove into the facility but he did not speak with any of them ("Nope."). Said fans were not granted access to One Buc Palace, however.