Patience Is Key
October 14th, 2013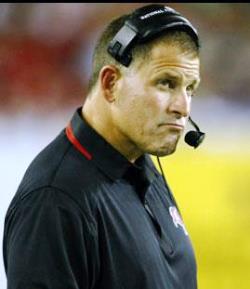 Joe knows Bucs fans are so enraged at Bucs commander Greg Schiano they want him to clean out his desk right now. This second.
Actually, some fans want Schiano's access card deactivated and have an underling fetch Schiano's belongings.
Joe understands these feelings. For the past day, Joe has tried to find a positive to releasing Schiano right away. Joe cannot find one positive in such a move.
First, Joe has documented that a coaching change now may just ruin a chance of a decent draft pick. Wins are meaningless now. Draft position is critical.
Then there is the coaching factor. Joe's going to guess Schiano is not here in 2014. So let him play out the season.
Unloading Schiano now sends a terrible message to future coaching candidates. You think any decent coaching candidate, who will have several options to choose from, wants to work for an ownership group that has a quick hook? Of course not. Would you work for a company that has a history of unloading employees every few months? No one that isn't desperate would. Agents would steer their clients clear of Team Glazer.
By letting Schiano finish the season, it demonstrates Team Glazer as patience. "Hey, we gave Greg the entire season to win ball games and show some progress, but it didn't happen."
(Yes, this may hack off fans, but guess what? Fans always come back when a team wins). 
Now some fans will howl that by not releasing Schiano, it stunts a coaching search. That is patently absurd. Trust Joe, Team Glazer is methodical. They didn't get to where they are by making rash decisions. Joe wouldn't be shocked if Team Glazer has already done research and has a dossier of candidates they want to interview when the time is right.
And honestly, just what NFL team — or college for that matter — is going to grant one of their coaches the opportunity to interview for another job … in October!?
The answer would be none.
Joe understands totally why Bucs fans want to launch Schiano now. But the NFL is not baseball or hockey. There is nothing positive to accomplish by letting Schiano go five weeks into the season, or 10 weeks for that matter.