Mike Williams Has Curious Answer
October 20th, 2013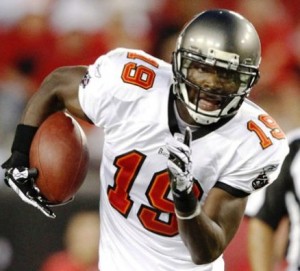 One of the coolest cats in the Bucs locker room, Mike Williams, is always open and frank with reporters. He's often one of the first to come to the defense of teammates.
Joe remembers last year how Williams came to the passionate defense of Bucs then-franchise quarterback Josh Freeman and his less than stellar completion percentage. Williams said wide receivers deserved plenty of blame because they had to make sure they were on the same page as Freeman on each and every pass play.
Williams even took heat off of Bucs quarterback Mike Glennon when the Bucs rookie was named starter, saying, "It's not like [Glennon] has never practiced with the first team."
After today"s game, recounted by Pat Yasinskas of ESPN, Williams seemed evasive when asked about Bucs commander Greg Schiano not going for a touchdown on four-and-23 with five minutes left and the Bucs trailing by two touchdowns.
Don't ask me: None of Schiano's players questioned the call to kick the field goal, but wide receiver Mike Williams had the best quote: "I just block, catch balls and try to get touchdowns. That's my job. I can't make the calls. That was his call and that was the right call for him at that time.''
It sure seems like Williams wanted to go for the touchdown, but for the same of harmony in the locker room and perhaps to protect Schiano, he's biting his tongue.
Sooner or later there will be more chirping from within the locker room is the losses mount. From what Joe understands, there already are frayed nerves. Not yet publicly, at least, not at the coaching staff.