Marching To Toes-On-The-Unemployment-Line
October 20th, 2013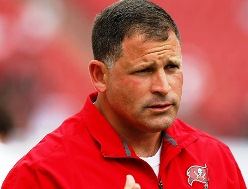 The thing that really annoys Joe, and what will be the noose around the neck of Bucs commander Greg Schiano is that for a guy who preaches, demands discipline, his team plays so undisciplined.
Schiano, on the Buccaneers Radio Network, spoke about "self-inflicted" penalties that killed a drive that could have pulled the Bucs within seven points late in the game. Disciplined teams don't do this. Pat Yasinskas of ESPN.com cobbled together some of Schiano's postgame words.
"It's been a long time since a team I coached had that same issue,'' Schiano said. "Put it on me to get that fixed. We had 11 penalties, six of them in Atlanta territory and four in the red zone. I think we do all the right things and it's worked over the years, yet it's not working right now. We've got to re-examine that.''
Re-examine? You have, what, 86 coaches on staff and had since the last week of July to figure out how to cut down on penalties and now, in late October, you may have to revisit this? Didn't you have any time during the bye week to re-examine?
"When teams are having penalties, that's a collective coaching and playing issue," Schiano said. "We've got to get it fixed. I'm frustrated because I've said that standing at this [microphone] before."
Sadly, both for Bucs fans and Schiano, if you say you are going to correct things, yet those things still occur, yes, it is both a coaches issue and a players issue. One, the coaches, for whatever reason, aren't getting through players' thick skulls that they need to use their heads, or, the players can't figure this out because of aforementioned thick skulls.
Again, Joe can't see a scenario where Schiano returns for the 2014 season, barring a six-game winning streak. But just as Team Glazer may have a housecleaning of the coaching staff, there may be a third purge of players in the past five seasons.
Imagine you are Team Glazer and you just spent a quarter of a billion dollars — enough to buy an NHL team — on players' salaries over the past couple of season, and what you get for your massive investment is zero wins in 2013.
Zero!