May Be The Point Of No Return
October 20th, 2013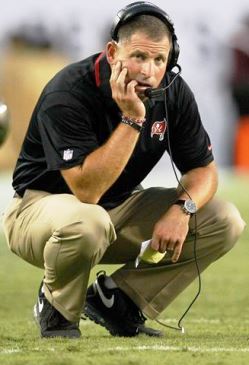 Now Joe has written before that he doesn't expect Bucs commander Greg Schiano to return for the 2014 season. Not so much for his coaching shortcomings, but for a lack of trust factor among players — inaccurate or accurate — stemming from the smear job by the NFLPA, when they publicly pointed the finger at Schiano for allegedly leaking defrocked franchise quarterback Josh Freeman's medical information.
Well, Joe thinks today may have given Team Glazer even more of a reason; the Bucs have now lost 11 of their last 12 games with Schiano at the helm.
The Bucs were playing a one-win team decimated by injuries. The Dixie Chicks were starting a No. 3 receiver who fried the Bucs time and again, Harry Douglas (who was time after time covered by a rookie and a second-year free agent signee, but not All-World corner Darrelle Revis). The defense, in the first half, looked hapless. You mean to tell Joe the Bucs had a week to prepare for the injury-prone Dixie Chicks, with virtually no offensive line to speak of, and they got ripped apart as if Raheem Morris was coaching them?
One guy who came to play on defense was stud Lavonte David. He seemed to be making a tackle every other play. His comments on the Buccaneers Radio Network following the game were rather telling.
"In the first half there were a lot of things we messed up on mentally. It was mental things that happened that gave them big plays. We have to learn how to eliminate that," David said.
Now wait a minute! The Bucs have a College of Coaches that are supposed to teach. Schiano and his staff are supposed to be detailed to the point of examining pasta and thermostats in order to keep players from being distracted. And yet, the Bucs' star linebacker claims they are not mentally into games?
Now Joe doesn't expect Schiano to be relieved of his command, nor should he. The Bucs are in the chase for Jake Matthews and Jadevon Clowney. Why jeopardize that? There's no better option now.
To conclude why Joe doesn't think Schiano will be relieved before January is the history and pattern of Team Glazer. They have never released a coach before the end of the season.
Joe again cannot see Schiano coaching the Bucs in 2014. This does not make Joe happy because Schiano's a good dude. In the NFL, you are hired and paid to win games, which Schiano is not doing, forget about the drama that enveloped the squad this season. Schiano pretty much sealed his fate today when his team came woefully unprepared, which is the same virus that torpedoed Morris' tenure.