May Be A Long Night For Mike Glennon
October 24th, 2013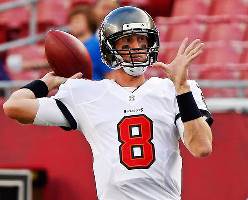 Joe knows the rest of the season is nothing more than a casting call for Bucs quarterback Mike Glennon. At the end of the season, the Bucs will monitor all of his tape and determine if they should go out and get a veteran quarterback, or take a flyer one of the many good quarterbacks available in the 2014 draft.
(Sadly, Joe asked readers and draftniks recently to do some research on Jimmy Garoppolo, yet no reader apparently has. Joe is surprised.)
Tonight could be a big test for Glennon, writes Pat Yasinskas of ESPN.com, if Glennon harbors any thoughts of starting for the Bucs next season.
Pick your antidote: In Glennon's first three starts, opposing defenses loaded the box to try to stop running back Doug Martin. But Martin is dealing with a shoulder injury now, so the Bucs will also have a rookie at running back: Mike James, who is likely to pick up most of Martin's workload. That could prompt Carolina to go to a different tactic than Glennon's previous opponents and focus on stopping the passing game.

Prediction: It's not hard to envision trouble on the horizon. Glennon is not noted for his mobility, and his offensive line hasn't been playing very well. Throw in the fact that Carolina has two good defensive ends in Greg Hardy and Charles Johnson, and Glennon could be in for a long night.
It doesn't look good for Glennon and the Bucs offense tonight. Rookie quarterback and rookie backup running back going against an incredibly strong front-seven from the Stinking Panthers. Yikes.
Joe wonders, since the Bucs will be starting Mike James, whether the Panthers will pass on loading the box like teams have against Doug Martin and, instead, try to confuse, jostle, mock and rob Glennon?