Lavonte David: Superstar?
October 23rd, 2013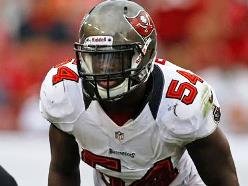 Joe likes to brag that he knew about Bucs stud linebacker Lavonte David long before 90 percent of America did. Joe would watch Nebraska games and see David fly from sideline to sideline and thought he would be an awesome pick for the Bucs (which later came true).
(Post sidenote: Joe almost cannot bear to watch Nebraska games now because their defense is such a sieve, it makes the Bucs look like the 1985 Bears).
Last year, many thought David should have been named to the Pro Bowl along with his fellow rookie Doug Martin, who did eat pineapple. This year, it appears David should again, as Nathan Jahnke of ProFootballFocus.com details.
As a rookie, linebacker Lavonte David showed he could stop the run and play in coverage. In 2013 he has shown he can be a triple threat. He had a below average 9.9 Pass Rushing Productivity last year, where this year he has a league-leading 35.7. On 42.8% of his pass rushes he has gotten pressure, and on 19.0% of his pass rushes he has either sacked or hit the opposing quarterback.
David was simply all over the place against the Dixie Chicks in the first half. Joe may not have seen a Bucs linebacker play like that since there was some dude wearing No. 55 flying around. Joe never thought he would see the next Derrick Brooks but, lo and behold before our very eyes, David may just be a clone of Brooks.'
Now will David make the Pro Bowl? Joe isn't sure. Outside of Bucs fans and Cornhuskers fans, you mention the "Lavonte David" and 19 out of 20 will say, "Oh, you mean the guy that make the dumbarse play with Geno Smith in New York that gave the game to the Jets?"
Sad as it is, to date, that is David's signature play. Until or unless the Bucs begin playing meaningful games, and David makes a splash in those games, he will go down as the defensive Joe Pisarcik of his time.
And that truly is sad.