Joe Sets New Traffic Records
October 1st, 2013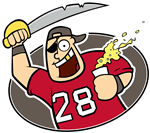 A quick thank you note here from Joe. The response to this website continues to amaze.
More than 120,000 unique visitors made 600,000+ actual visits to JoeBucsFan.com in September. New records were reached. And various tracking methods and research reveal that JoeBucsFan.com is the most popular team-specific NFL site in the country not owned by the league. Given the size of the Tampa Bay market, that's pretty darn cool.
Joe appreciates your patronage. Joe remains committed to giving you unmatched Bucs coverage 24/7.