Is Mike Glennon NFL Ready?
October 11th, 2013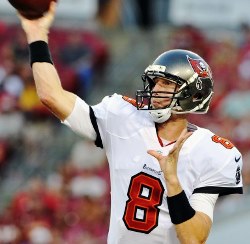 When the Bucs decided to bench, and then wash their hands of defrocked franchise quarterback Josh Freeman, it raised a whole lot of questions.
One question was if backup quarterback Mike Glennon was prepared to step in and replace Freeman as a starter, and perhaps lead a desperate charge for a wild card berth.
It's a fair question, especially when Glennon looked shaky (at best) in his final preseason tune up this past summer. It's also a question that Bucs commander Greg Schiano was hit with Thursday, and whether Glennon has been rushed too early as a starter.
"That's a good question," Schiano said. "Ready or not, that doesn't matter if he's the best choice for us to win. That's the first thing. When are they ever really ready? There's guys that are well into their careers that aren't quite ready. The thing that, I think, has been talked about is how mature he is, how hard he works, he's got a very good football mind. Are there things that are going to fool him? Sure. Are there mistakes that he'll make early in his career that he won't dare make later? Absolutely, because of the kind of worker he is and how smart he is. There's some quarterbacks, and some football players, that'll make the same mistakes over and over and over again, and that's why they don't play that much. This guy will learn from his mistakes. That's one thing that I'm really confident about. It's just, 'how many times do you touch it [the ball]?'"
Well, Joe does think it matters if Glennon was/is ready. It's not like the Bucs have had a rash of injuries at quarterback where a backup, ready or not, has no choice and neither does the coaching staff.
Now Joe is not a Dan Orlovsky fan in any way. But at least the guy has started a handful of games.
Simply put, the remainder of the 2013 season is really a trial run for Glennon to see if he will be the Bucs' starter in 2014, not so much to see if he is ready for the fifth game of the season.