"He Seemed Different"
October 12th, 2013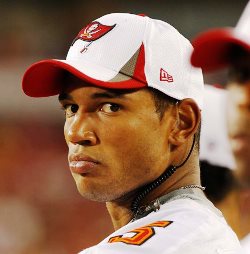 For the first time since the Bucs jettisoned defrocked franchise quarterback Josh Freeman, his former teammate Ronde Barber discussed the subject publicly that has far-reaching complications for the Bucs.
(No, this Freeman story is not over as long as the coaches who couldn't coach him up are still here and until a decent quarterback can be found. In other words, it has long, long legs.)
Barber joined co-hosts of "The Blitz," Bruce Murray and Rich Gannon, heard exclusively on SiriusXM NFL Radio, to discuss a few Bucs subjects, among them Freeman's exit from the team, which Barber sort of admitted didn't shock him.
"I think we could all see it coming. There was some hedging on the Bucs' part at the end of last year I think as far as committing to him," Barber said. "Obviously, he was not given a contract. They were openly looking for someone. They drafted a quarterback in the third round. all of those [signs] kind of pointed to [the Bucs] saying, 'Well, this may not be our guy.'

"I can't speak for Josh but he seemed different this year. When you saw him in preseason, there was a certain aloofness, I guess is the best way to say it. It was as if he was resigned to his fate here. He wasn't the same Josh. I am not sure what changed. I know he has some other things going on with his life. Maybe that has some things to do with it. Maybe he is dealing with that adversity. You mentioned it. He has every ounce of talent you would want from that position. He is big, strong, can move around in the pocket. Obviously he has the big arm and certainly has the football IQ to play this game. But it went south quick."
It sure smells like, the way Barber described it, that Freeman all but quit on the team. Yeah, those are harsh words, but if you add up what Barber said, with Freeman blowing off team functions, meetings, not to mention a pregame meal and being late for a team bus — before the first game of the season no less! — it sure smells like Freeman checked out on his teammates before the season even started.