Greg Schiano Explains Late Field Goal
October 20th, 2013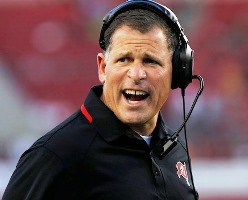 Joe was outraged when Bucs coach Greg Schiano decided to play percentages and go for a late field goal when the Bucs needed 14 points to tie the game with five minutes left in the final quarter in today's gut-punching loss to the Dixie Chicks.
At first, Joe hit the ceiling and could not believe that Schiano would suddenly go all French Army on the Dixie Chicks, especially since his job is on the line. The Tampa Bay voice of reason, columnist Joe Henderson of the Tampa Tribune, took to Twitter and believed that move signaled the end of the Greg Schiano Era in Tampa Bay.
@JHendersonTBO: IMO, whatever belief remained in Schiano by this town vanished with a FG that left #Bucs still needing 2 possessions in 5 minutes
This Joe was right with Henderson until he heard Schiano explain his position on the Buccaneers Radio Network.
"We were going for a score to make it one-score game," Schiano said. "Then we self-inflict. Twice on fourth down. The odds of us doing anything [scoring a touchdown] is maybe 10 percent. If we could make it an 11-point game, we can score and get an onside kick which is what we did. Unfortunately, we didn't get the onside kick."
Joe will have more on the self-infliction a bit later. Schiano, Joe must admit, has a point. The Bucs needed 23 yards and the Dixie Chicks would have just put everyone in the end zone or on the goal line to defend against a touchdown. Not good odds.
Rather than being PO'ed at the decision, in retrospect, Joe is more than PO'ed at the sloppy play coming from a team coached by a self-proclaimed toes-on-the-line disciplinarian.