Donald Penn Lashes Out At Reporters
October 2nd, 2013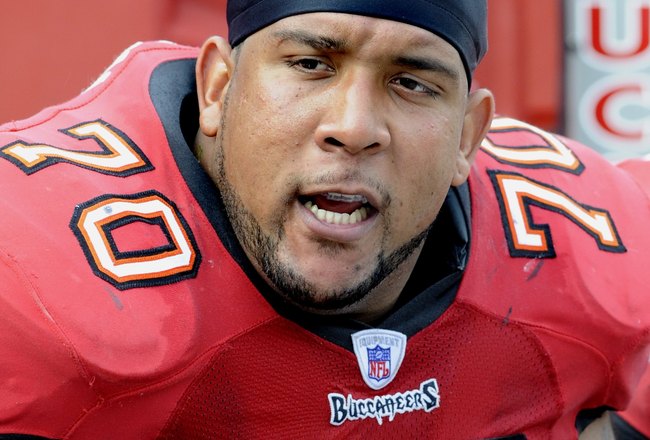 In the wake of Donald Penn going national and defending Bucs quarterback and teammate Josh Freeman, Penn took time today to lash out at local reporters for what he considers a character assassination against the defrocked Bucs franchise quarterback.
In his defense against Freeman last night with Bill Polian and Alex Marvez, co-hosts of "Late Hits," heard exclusively on SiriusXM NFL Radio, Penn said the following:
"You know, the stuff that came out [Monday regarding Freeman's ADHD medicine being monitored in NFL substance-abuse program] and stuff like that, it's like they're really trying to bring him down and Josh is a great guy. I mean Josh is a very humble spirit. He's a very good guy. He's a very good person and he really cares about him teammates and he cares about his team. I know it's killing him what's going on."
It was unclear who "they" were that Penn referred to.
Was it Bucs management who some believe are in a campaign to tear Freeman down, was it agents, was it other NFL teams, was it some Bucs teammates?
(Fans of the late great Chris Thomas know who "they" were. They is Chuck LaMar.)
So today, Joe asked Penn who exactly he was referring to. Who was trying to run Freeman out of the NFL? Penn did not hold back at all.
"Y'all! The media. The Media. The Media. The Media. Y'all," Penn said. "Y'all are all trying to find any way to tarnish his character and make it sound like he is not a good guy, like he is not a good person, like this is all his fault. That is y'all reporting that stuff. That is y'all. So don't try to switch it up like it isn't y'all. It's y'all. The media."
Joe likes Penn a lot but Penn likes to lump "media" in one big group as if every reporter — TV, print and new media — answers to the same boss, as if all media were just one big conglomerate.
For example, this past summer, when a local reporter suggested Penn was too fat to remain employed by the Bucs, Penn blasted the creator, curator and overall guru of ProFootballTalk.com, the great Mike Florio, as if Florio was the author when Florio simply linked to the article in question.
Joe appreciates Penn sticking up for his friend and teammate. Joe just wishes Penn would save his ire for those who are planting stories with the Jay Glazers of the world (who is among the best there is, mind you), who, by the way, Joe has never seen at One Buc Palace.
Here is the audio of Penn's response, courtesy of Joe's good friends at WDAE-AM 620.