Changes Coming?
October 26th, 2013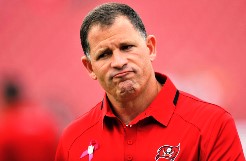 Yes, Bucs fans, Joe has the news you have all been waiting on. There will likely be changes to the Bucs in time for their next game in Seattle a week from tomorrow.
No, those changes do not include a coaching change — not yet.
Bucs commander Greg Schiano admitted Friday to Woody Cummings of the Tampa Tribune that, seeing his team is 0-7 and starting to fall apart, change might be best.
"I think the biggest thing is you look at what are you doing well,'' Schiano said. "There's a lot of games that, early on, we believe we should have won. What did we do well to put us in a position to win? What did we do in these last three games where it wasn't as tight of a game, or at least this last one? Take what you do well, build on it.

"Things you're not doing well, either cut them out, because you just can't do them this year, or, how are you going to fix them, how are you going to make them better? That's what we have to do a good job of this weekend.''
Well, Joe has to give the usually set-in-his-ways Bucs commander a little credit for going against his inner grain and attempting to change. But you know what, perhaps Schiano wouldn't be in resume-update mode with fans screaming for his head and billboards all across the Tampa Bay area demanding his scalp if, you know, maybe he changed things up, oh, Joe doesn't know, maybe six weeks ago?
File this under the category of "Too Little/Too Late."