Bucs' Passing Game Better With Glennon
October 20th, 2013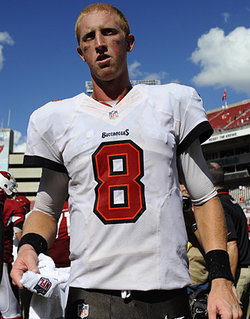 Many Bucs fans — largely those known as "Freemanites" — still howl about the Bucs cutting loose malcontent defrocked franchise quarterback Josh Freeman. In some cases, so much so that local animal services has visited their residence for drop-kicking a pet cat across the backyard.
There really hasn't been a marked difference in the Bucs' passing attack since Freeman left, partially because of injuries to skill position players. But hold up, says Bucs commander Greg Schiano. The passing of current starter Mike Glennon has improved greatly over Freeman in one area: Accuracy. Can you imagine? Light upon this subject is shed by Woody Cummings of the Tampa Tribune.
Glennon's mobility isn't the only thing that has Schiano smiling. His ability to hit receivers on the run with his passes has brought back an offensive dimension Schiano said was missing with former starter Josh Freeman.

Freeman's inability to consistently hit his targets in stride, Schiano said, greatly reduced his receivers' ability to make yards after the catch and therefore limited the offense's true potential. Last week, Schiano said he thinks that trend will slowly change for the Bucs now that Glennon is at quarterback, and there is already proof.

Though the Bucs are last in the league in total yards after the catch with 421, a season-high 107 came against the Eagles, when Glennon completed 26 of 43 throws (60 percent). It marked the first time this season a Bucs quarterback has completed more than 50 percent of his passes.
Joe is somewhat interested to see how Glennon does against the Dixie Chicks. It could be the first time the Bucs had their projected starting tight end and receivers. Vincent Jackson will start, of course. and Mike Williams is expected back. Tight end Tom Crabtree also should log many more snaps.
This can only help Glennon and the Bucs find that elusive first win of 2013.