Ahmad Black, Kevin Ogletree Gone
October 1st, 2013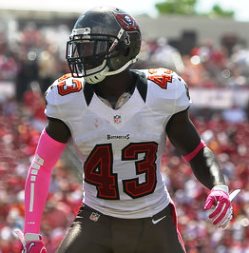 The Bucs are trying to find ways to get their first win of the season and have made an eye-opening pair of moves this morning.
Per Woody Cummings of the Tampa Tribune, Kevin Ogletree and Ahmad Black are no longer Buccaneer Men.
@RCummingsTBO: The Bucs are letting go of WR Kevin Ogletree and S Ahmad Black and will bring WR Chris Owusu back to the 53-man roster
The cutting of Black is a bit of a surprise since he played so much, and especially since starting safety Mark Barron suffered a hamstring injury Sunday and those things don't heal so quickly. Perhaps Black's history of running afoul of the law had something to do with this move?
Joe had had it with Ogletree and his drops. Joe scolded Bucs commander Greg Schiano Monday for having the gall to keep Ogletree, who made Michael Clayton look like Cris Carter, yet benched Josh Freeman for "performance."
Joe didn't have an issue with benching Freeman but as Joe had pointed out, if Freeman got benched for performance, how could Schiano justify keeping Ogletree on the roster?
Joe's question was answered this morning.