What To Expect On Gameday
September 7th, 2013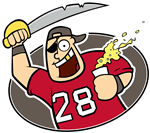 New readers are always coming to Joe's Bucs-obsessed home on the Internet. So Joe just wants to give a heads-up on what to expect tomorrow and on game days.
First off, Joe will continue churning out all kinds of stuff tonight and tomorrow morning, but look for Joe's game-chat thread to appear shortly before kickoff of the Bucs-Jets game. That's a fun place for fans to go back and forth during the game.
After the final whistle, no media outlet in the free world will deliver more Bucs content than Joe.
You'll get plenty from the Bucs locker room — yes, Joe is in Jersey for the game — along with all kinds of analysis from Joe and other media from various sources, including the Buccaneers Radio Network and more. Go Bucs!